The 2023 NBA Playoffs: Scoring Affordable Seats Tips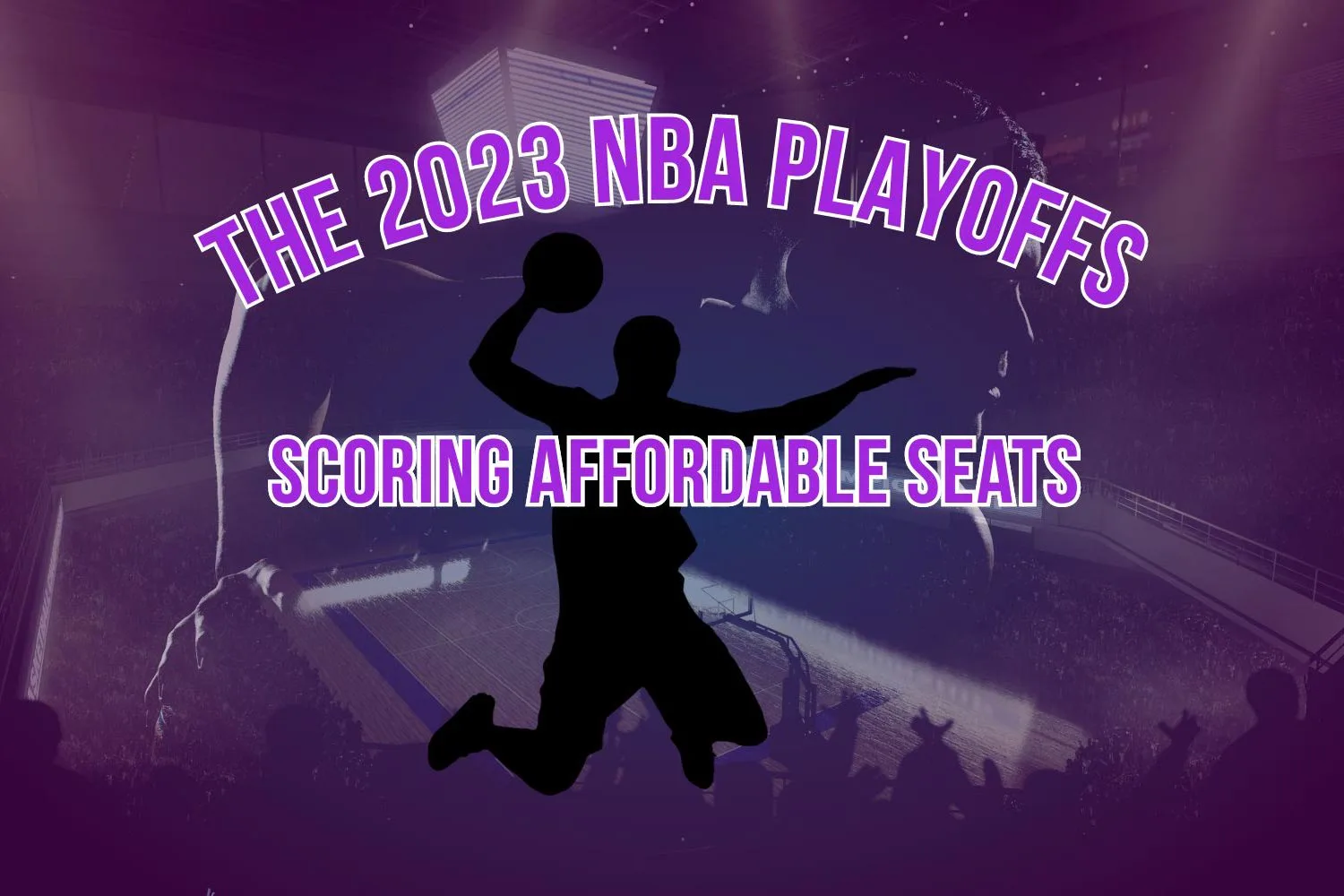 If you are a basketball fan, you might be wondering how much it would cost to watch the 2023 NBA Playoffs games live. The NBA Playoffs are the most exciting and competitive part of the season, where 16 teams battle for the chance to win the championship trophy. But how much do you need to pay to witness the action in person?
The answer depends on several factors, such as the location, the round, and the demand for tickets. According to SeatGeek, a website that tracks ticket prices for various events, the average cost of NBA playoff tickets varies greatly by round. On average, tickets for the first round of the playoffs cost $135.00. In the second round, the average ticket price is closer to $200.00. Tickets for the conference finals typically resell for $300.00. And finally, tickets for the NBA Finals can go as high as $1,000 or more, depending on the teams and the market.
Of course, these are just averages, and the actual prices may vary depending on the specific game and seat location. For example, according to NBA.com, the first round series between the Milwaukee Bucks and the Miami Heat had ticket prices ranging from $50 to $500 per seat. The series between the Sacramento Kings and the Golden State Warriors had prices from $75 to $1,500 per seat. And the series between the Cleveland Cavaliers and the New York Knicks had prices from $100 to $2,000 per seat.
So how can you afford to pay for these tickets if you want to watch your favorite team or player in action? Here are some tips that might help you save some money and enjoy the games.
Look For Discounts and Promotions
Some teams or venues may offer special discounts or promotions for certain games or groups of fans. For example, some teams may offer lower prices for students, military personnel, or season ticket holders. You can check their official websites or social media accounts for any announcements or offers.
When looking for discounts on the 2023 NBA Playoffs game tickets, here are some things to keep in mind:
Check with the venue: The venue may offer discounts for buying tickets early, buying in bulk, or for being a student or military member. Check their website or call their box office to see what discounts they offer.
Check with the NBA: The NBA may offer discounts for buying tickets through their website or for being a member of their fan club. Check their website or contact their customer service department for more information.
Look for promo codes: Check online for promo codes that can be used to get a discount on tickets. You can try searching for promo codes on coupon websites or by following NBA teams and ticket sellers on social media.
Use cashback apps: Some cashback apps such as Rakuten or Honey offer cashback or discount codes for certain ticket sellers. Be sure to check the terms and conditions of the app before making a purchase.
Consider The Secondary Market
Tickets may be available at a lower price on secondary market websites such as StubHub, SeatGeek, or Vivid Seats. However, be sure to only purchase from reputable sellers and verify that the tickets are legitimate before making a purchase.
When considering purchasing tickets on the secondary market, there are some important things to keep in mind to ensure that you're getting legitimate tickets at a fair price:
Research the seller: Be sure to only purchase from reputable sellers with a history of positive reviews. Look for sellers who offer guarantees or protection against fraudulent tickets.
Compare prices: Check multiple secondary market websites to compare prices and ensure you're getting a fair deal. Don't be afraid to negotiate with the seller to try and get a better price.
Check the tickets: Before making a purchase, verify that the tickets are legitimate by checking the seat numbers, date, and time of the game. Some sellers may provide photos of the tickets to help you verify their authenticity.
Use secure payment methods: When making a purchase on the secondary market, use a secure payment method such as PayPal or a credit card that offers fraud protection. Avoid sending cash or using wire transfers, as these methods offer little to no protection against fraud.
Be aware of scams: Be cautious of offers that seem too good to be true, such as tickets priced well below market value. Scammers may also use fake websites or email addresses that look similar to legitimate sellers, so always double-check the website URL and email address before making a purchase.
You don't have to sit courtside or in the lower bowl to enjoy a playoff game. You can still have a great view and atmosphere from the upper deck or behind the basket and pay much less for your ticket. You can also look for standing room only tickets or fan zones that might offer cheaper or even free admission.
Remember, even if you're not sitting in the most expensive seats, attending an NBA Playoff game can still be a thrilling experience.
When considering purchasing cheaper seats for the 2023 NBA Playoffs games, here are some tips:
Choose the right section: While seats closer to the court offer the best view, they are also the most expensive. Consider purchasing seats in a less expensive section, such as the upper deck or corners, where tickets are often cheaper.
Check the seating chart: Before purchasing tickets, check the seating chart to ensure that the seats you are considering have a good view of the court. You can often find seating charts on the venue or ticket seller's website.
Consider standing-room only tickets: Some venues may offer standing-room only tickets, which are often cheaper than traditional seats. While you won't have a seat, you will still be able to watch the game from a designated standing area.
Be flexible: Consider attending a weekday game instead of a weekend game, as tickets are often cheaper on weekdays. Also, be flexible with your travel plans, as you may be able to find cheaper tickets for games in other cities.
Split The Cost with Your Friends Or Family
Going to a playoff game with a group of people can be more fun and affordable than going alone. You can share the expenses of transportation, parking, food, and drinks, as well as split the cost of the tickets. You might also be able to get group discounts or packages from some sellers or venues. Here's how it works:
Decide who you want to go with: Choose friends or family members who are interested in attending the 2023 NBA Playoffs games with you. Make sure they are reliable and committed to sharing the cost.
Determine the number of tickets needed: Decide on the number of tickets needed for everyone in the group. Consider the cost per ticket and the total cost of attending the games.
Split the cost: Divide the total cost of the tickets equally among the group. Each person can contribute an equal amount or adjust the amount they pay based on their budget.
Purchase the tickets: Once everyone has contributed their share, purchase the tickets. Make sure to coordinate with the group and agree on which games to attend and the seating arrangements.
Sharing the cost of the 2023 NBA Playoffs tickets is a great way to enjoy the games with others while keeping the expenses manageable. It also allows you to have a shared experience and memories with your friends and family members.
Consider Alternative Options
You can save money on other expenses; If you do decide to buy tickets for a game, you can save money on other expenses. For example, you can save money on transportation by taking public transit, carpooling, or parking at a cheaper location. You can save money on food and drinks by bringing your own snacks and beverages, or by eating before or after the game at a cheaper place. You can also save money on merchandise by buying online or at a discount store instead of at the arena.
If you can't afford to buy tickets for every game or every round, you can still watch some games live by choosing alternative options. For example, you can watch a game at a sports bar or a friend's house, where you can enjoy the atmosphere and camaraderie with other fans. You can also watch a game at a public viewing party or a fan fest, where you can join thousands of other fans and enjoy free entertainment and giveaways.
How To Pay for The 2023 NBA Playoffs Seats If I Don't Have The Cash Now?
If you don't have the cash to pay for the 2023 NBA Playoffs game seats upfront, there are several options you can consider:
Financing: Some ticket sellers may offer financing options that allow you to pay for the tickets over time. Be sure to read the terms and conditions carefully and understand the interest rates and fees associated with financing.
Credit card: You could use a credit card to purchase the tickets if you are able to pay off the balance on time. Be aware of the interest rates and fees associated with using a credit card and make sure you can afford the payments.
Personal installment loan: You could consider taking out a personal loan to pay for the tickets. Personal loans generally have lower interest rates than credit cards, but they may come with additional fees and charges in some cases.
Layaway plans: Some ticket sellers offer layaway plans that allow you to make payments over time. Be sure to read the terms and conditions carefully and understand the fees and requirements of the layaway plan.
Sell items you no longer need: You could sell items that you no longer need or use to raise the funds needed to purchase the tickets.
Overall, there are several options available to pay for the 2023 NBA Playoffs game tickets if you don't have the cash up front. Be sure to weigh the costs and benefits of each option and choose the one that works best for your situation.
The 2023 NBA Playoffs are a once-in-a-lifetime opportunity for many basketball fans to watch their favorite teams and players compete for glory. If you want to be part of this thrilling experience, you don't have to break the bank to do so. By following these tips, you can find ways to afford to pay for tickets and enjoy the games without hurting your wallet.
No Collateral

Installment Loans in Texas
Get an Installment Loan to cover your Unexpected Expenses.
You can get up to $1,000 as soon as the next business day.
Applying

DOES NOT

Affect Your Credit Score