How to Get a $1000 Loan in Texas Online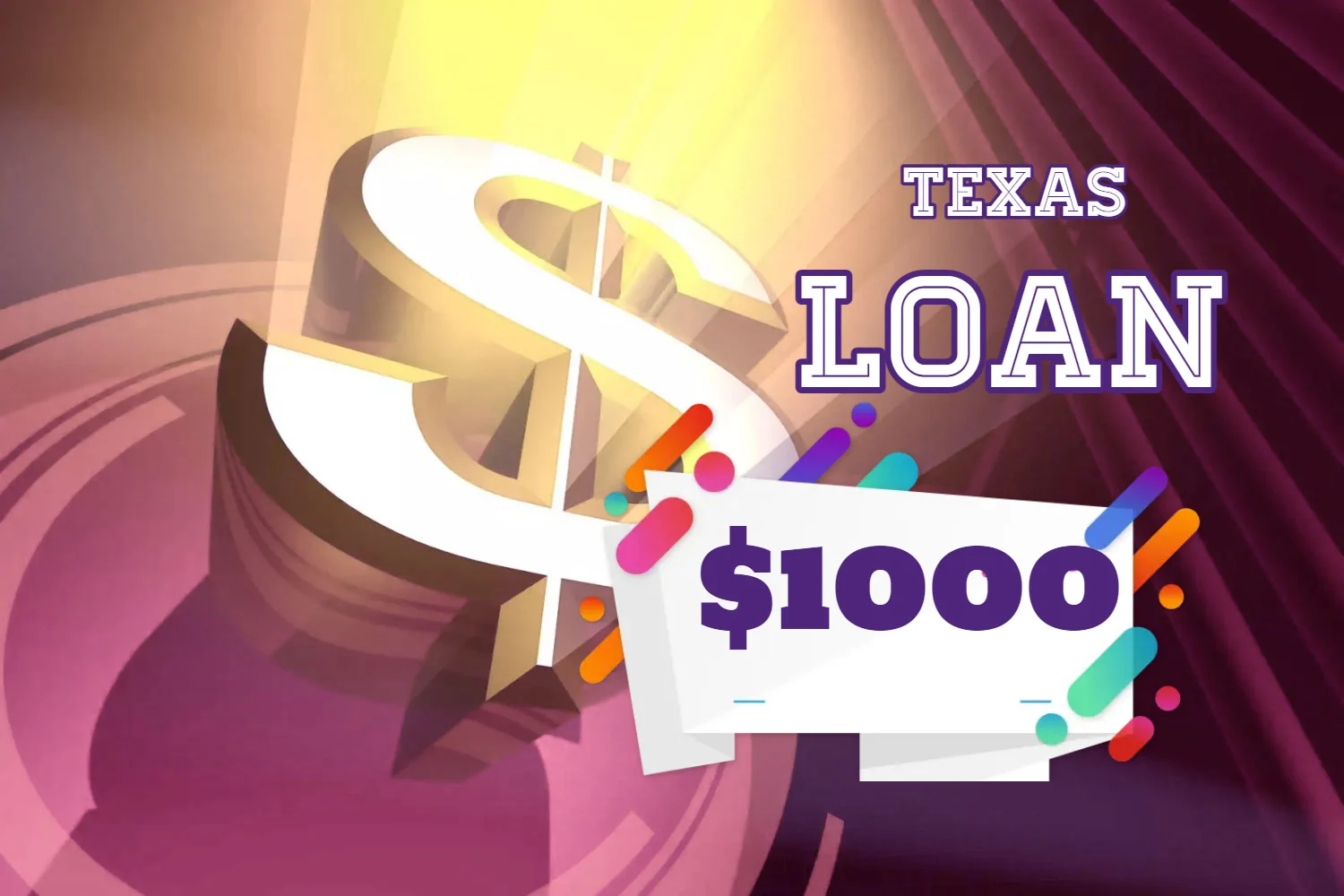 If you need a quick cash infusion of $1000 in Texas, you might be wondering what your options are. Whether you have an emergency expense, a medical bill, or a car repair, getting a loan online can be a convenient and fast way to get the money you need. However, not all online loans are created equal. In this blog post, we will explain how to get a $1000 loan in Texas online, what to look for in a lender, and what to avoid when borrowing money online.
How hard is it to get a personal loan of $1000 from a bank?
Getting a personal loan of $1000 from a bank can be challenging depending on your credit score, income, and debt-to-income ratio. Banks usually have strict criteria for approving personal loans, such as a minimum credit score of 640, a stable income of at least $25,000 per year, and a debt-to-income ratio of less than 36%.
If you meet these requirements, you may be able to get a personal loan of $1000 with a low interest rate and a short repayment term. However, if you have a poor credit history, a low income, or a high debt-to-income ratio, you may face difficulties in getting approved for a personal loan of $1000 from a bank. You may have to pay a higher interest rate, accept a longer repayment term, or provide collateral or a co-signer to secure the loan.
Alternatively, you may consider other options for borrowing $1000, such as online lenders, credit unions, or payday loans. However, these options may also have drawbacks, such as higher fees, lower loan amounts, or shorter repayment periods.
What can I accomplish in Texas with a loan of $1000?
Instead of asking what can be done with a $1000 loan in Texas, you might want to ask what can't be done with $1,000. Just like with credit cards, personal loans have no set spending restrictions.
The unsecured personal loan will be converted into a one-time deposit into your bank account. The loan, together with interest, must be paid back over the agreed period of time. Personal loans often have no collateral requirements and no limits on how the money can be used.
The following are some typical reasons for taking out a $1000 loan in Texas:
Medical bills
Utility bills
Dental bills
Vision Expenses
Pet Emergencies
Seasonal expenses
Money for the Wedding
Repairs or upgrades to your home
Home Appliances repairs or furniture purchase
Car Repairs
Consolidation of debt
Any unexpected bills
While these are just a few examples of how people often put their personal loans to use, the money is truly theirs to do with as they like.
One should have a plan for the borrowed money before applying for a personal loan. It is also prudent to borrow only the amount absolutely necessary.
It may seem like free money when it's first deposited, but it won't feel that way when repayments start coming out of your account. A bad credit score is one of the consequences of not paying back a debt.
If you need to borrow money again, do so wisely and within your means. Personal loans can have a favorable effect on your credit when you pay them back on time.
What are the Requirements for a $1000 Loan in Texas Online?
The first thing you need to know is what are the requirements for getting a $1000 loan in Texas online. Different lenders may have different criteria, but generally, you will need to:
Be at least 18 years old
Have a valid ID and a Social Security number
Have a bank account that can receive direct deposits
Have a steady source of income
Have a phone number and an email address
Some lenders may also check your credit score and history, but others may not. Some lenders may also ask for additional documents or information, such as proof of income or residence.
How to Find a Reputable Lender for a $1000 Loan in Texas Online?
The next thing you need to know is how to find a reputable lender for a $1000 loan in Texas online. There are many online lenders that offer loans in Texas, but not all of them are trustworthy or reliable. Some lenders may charge exorbitant interest rates and fees or have hidden terms and conditions that can trap you in a cycle of debt. To avoid falling prey to such lenders, you should:
Compare different lenders and their offers. Look for the annual percentage rate (APR), which is the total cost of borrowing per year. The lower the APR, the better. Also look for the loan term, which is how long you have to repay the loan. The shorter the term, the less interest you will pay.
Read the fine print. Before you sign any contract or agreement, make sure you understand all the terms and conditions of the loan. Look for any fees, penalties, or charges that may apply. Also look for any clauses that may allow the lender to change the terms of the loan without your consent.
Check the reviews and ratings. You can use online platforms such as Trustpilot or Better Business Bureau to see what other customers have said about the lender. Look for positive feedback, as well as complaints and resolutions. Avoid lenders that have many negative reviews or unresolved issues.
What are the Benefits and Risks of Getting a $1000 Loan in Texas Online?
Getting a $1000 loan in Texas online can have some benefits and risks that you should be aware of before you apply.
Some of the benefits are:
Convenience: You can apply for a loan anytime and anywhere, without having to visit a physical store or fax any documents.
Speed: You can get approved and funded within minutes or hours, without having to wait for days or weeks.
Privacy: You can keep your personal and financial information secure and confidential, without having to share it with anyone else.
Some of the risks are:
High cost: Online loans can have high interest rates and fees that can make them expensive to repay.
Debt trap: Online loans can have short repayment terms that can make them hard to repay on time. If you miss a payment or rollover your loan, you may incur additional fees and interest that can increase your debt.
Scams: Online loans can expose you to fraudulent or unlicensed lenders that may try to steal your money or identity.
How long does it take to repay $1000 loan in Texas?
The time it takes to pay back a loan of $1,000 varies on the loan's terms and the borrower's financial situation. It can also depend on how much money you borrow. If you carry a load on your credit card of $1,000, for instance, you might not be able to predict what your next monthly payment will be.
There will be a bare minimum payment payable upon receipt of your first statement. You are now accountable for the regular monthly payment. If you don't do the math, you might not know when you'll have paid off your $1,000 loan plus interest, even if you've been making the monthly payment on time.
On the other hand, if you need a personal loan of $1,000, you should be aware of the monthly installments and the term length before you commit to the loan. That way, you can budget and save accordingly for the loan's eventual repayment. The terms you accept determine how long you have.
Lend You Cash is a State Licensed Direct Lender that can help you if you are in a scenario in which you need to get money quickly but do not have enough time or resources to apply for a loan at a traditional bank. If you live in this state and have an urgent need for financial assistance, we can assist you in securing a $1000 loan in Texas online with the least amount of paperwork required. Because they are simple to apply for and you can often get the cash you need fast, online installment loans are gaining popularity.
Getting a $1000 loan in Texas online can be a viable option if you need cash fast and have no other alternatives. However, you should be careful and responsible when borrowing money online. You should only borrow what you can afford to repay and compare different lenders and their offers before you apply. You should also read the fine print and check the reviews and ratings of the lender before you sign any contract or agreement. By doing so, you can avoid getting into trouble and enjoy the benefits of getting a $1000 loan in Texas online.
Easy to get

$1000

Loan in Texas Online
Get an Installment Loan to cover your Unexpected Expenses.
You can get up to $1,000 as soon as the next business day.
Applying

DOES NOT

Affect Your Credit Score